The Domus 1 is an entry level dynamic pressure relieving mattress. The system is designed for patients at low risk of developing pressure ulcers and is our most cost effective solution to prevention. This lightweight and compact alternating pad is composed of 2.5" high bubble cells and includes extension flaps on the top and bottom to prevent it from sliding.
Key Features
Weight Indicator Reference: To facilitate optimized pressure setting.
Medical Grade PVC Pad: Easy to clean and fire retardant.
Adjustable Hangers: Suitable for most electric profiling beds.
Extension Flaps: Can be tucked beneath the underlay mattress for stabilisation.
Alternating Mode: Continuously and sequentially inflates and deflates air cells to mimic natural sleep movement patterns and relieve pressure away from vulnerable areas, whilst also stimulating blood circulation.
Description
Features/Benefits
Easy to use adjustment settings
Flame retardant and medical grade bubble pad
Adjustable hangers for most bed types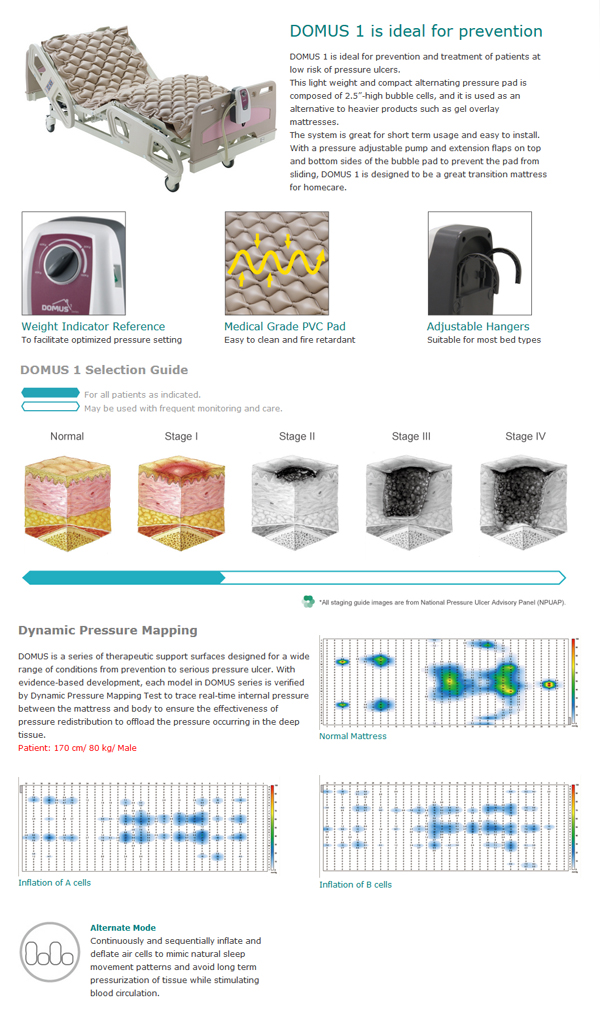 Apex Domus 1
Brand: APEX
Product Code: Ripple Mattress
Availability: In Stock